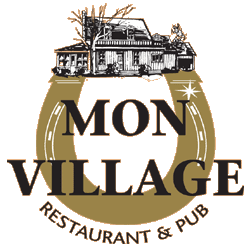 Nestled in the heart of Montérégie, between the lakes, forests and traditional countryside houses of Hudson & St. Lazare, Mon Village Restaurant & Pub welcomes you to a haven of countryside charm and gourmet food.
With a creative seasonal menu full of appetizing dishes, Mon Village Restaurant & Pub is the perfect place for a refreshing meal among friends or a quiet and informal evening of reflection. We serve an amazing array of outstanding traditional and contemporary homemade food in a warm and intimate environment.
A secluded restaurant of rural charms and a favourite of couples on a romantic getaway, families and individuals, Mon Village Restaurant & Pub is an ideal place from which to explore the surrounding area of outstanding natural beauty after a delicious and hearty meal.
Take a break from the hustle-and-bustle of the city and enjoy the pleasures of the season at Mon Village. Our summer terrace is ideal to take in the sun and loosen up and meet with friends. In winter, unwind by the fireside and sample one our 20 specialty wines from our extensive and always-changing list after a day of outdoor activities.
Discover what Hudson and St. Lazare residents have known for decades: the friendly, inviting atmosphere and delectable cuisine of Mon Village Restaurant & Pub. We look forward to reserving your table and welcoming you soon!